Case study CFF Ballet Mechanique
This case study Ballet Mechanique tells the story about our font CFF Ballet Mechanique, a melodic custom font for musician Jeroen Borrenbergs, whose electronic musical persona goes by the same name. For his upcoming record releases he asked us to create a special font for him. An extremely narrow, monocase sans – CFF Ballet Mechanique belies its linear structure with arguably organic stroke transitions and details.
Jeroen Borrenbergs gave us some basic sketches from his word mark that we should use as a starting point. We created the complete font, based on his design. The result is a compressed, round and warm, monocased font called 'CFF Ballet Mechanique' (what else).
Case study Ballet Mechanique
CFF Ballet Mechanique is a bit of a surprise; actually it are two fonts rolled into one. We designed the font as monocase (upper- and lowercase are the same style), so we could pack two fonts in one. The uppercase letters have curved stems & serifs. The lowercase letters have straight stems & serifs. This gives Jeroen the change to play around and give his artwork some more character.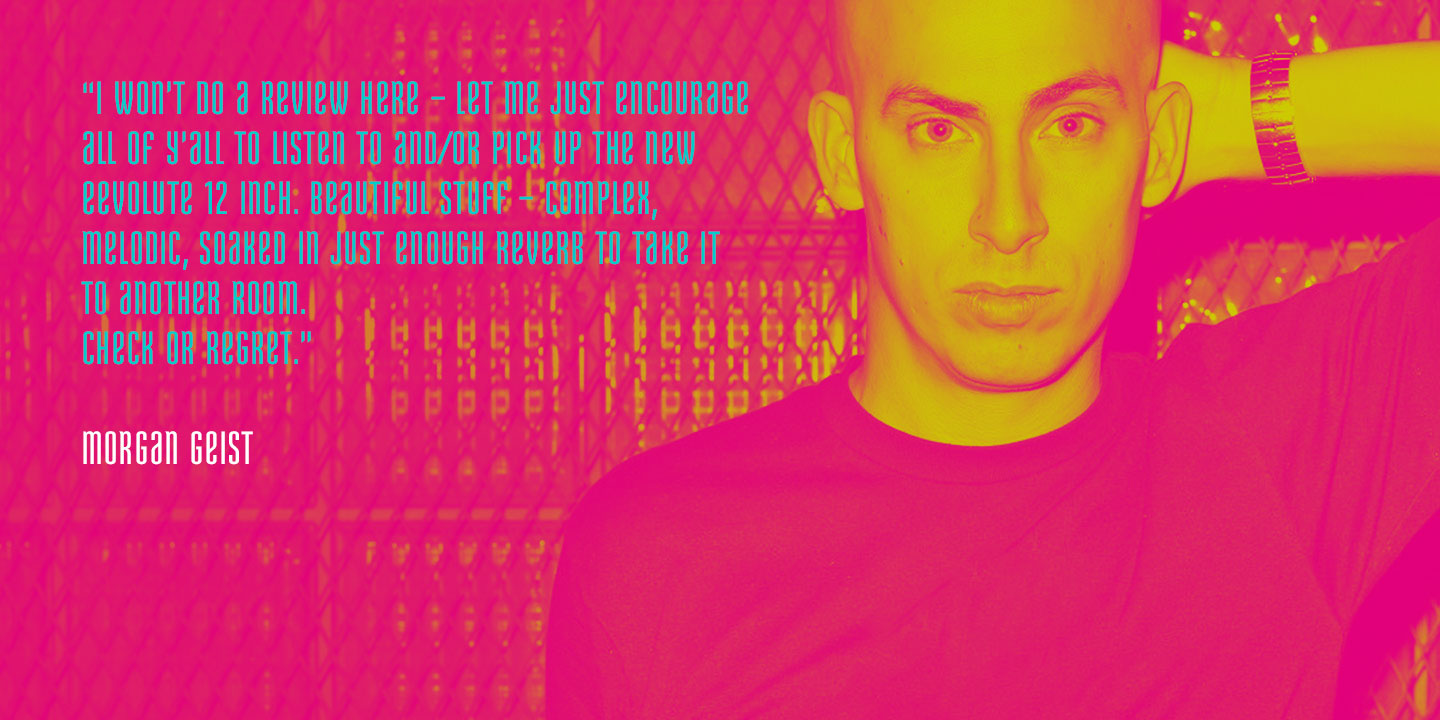 Ballet Mechanique website (Flash required!)
Ballet Mechanique is the music-outlet of Jeroen Borrenbergs. After a few years of silence the Dutch graphic designer is getting ready to release new tracks. His website is a state of the art peace of artwork, superbly programmed by ComaKid. The circle elements are a very nifty element. It's the audio player, showing both the loading- as the playing time of the current song. Nice touch! Visit the Ballet Mechanique Facebook fanpage to get a taste of his personality and music.
Praising reviews
Jeroen Borrenberg's debut work, in 1996, received hugely praising reviews. Muzik Magazine made 'Evolutionary Entities' techno single of the month, Laurent Garnier and Mister C constantly played it in their sets.
"I won't do a review here – let me just encourage all of y'all to listen to and/or pick up the new Eevolute 12 inch. Beautiful stuff – complex, melodic, soaked in just enough reverb to take it to another room. Check or regret."

Morgan Geist – American music producer, songwriter, remixer and DJ
Your own custom typeface
In a world that is exploding with brands and loud advertising noises, companies make every effort to stand out and be unique. A custom typeface is a very powerful visual tool to effectively position a brand. They are tailored to a companies needs, and can even save money long-term. It's no longer exclusively available to large companies, but can be done at a smaller scale for medium sized companies as well.
Characters Font Foundry offers creative and highly distinguishable custom typefaces that gives your brand a competitive edge.
Contact us for more information about the Custom Type Services and prices.
Tweet with us