CFF Insignety is a custom brand font we crafted for Insignety. They offer their clients a high-end custom jewelry collection and innovative instore design solution. Clients can create their own jewelry, using even their own fingerprint, handwriting and heartbeat. Highly personal jewelry for very special moments in life.
The brief
For a company that creates custom jewelry for their clients, having a custom corporate font is the logical next step. Insignety commissioned us to craft their brand font, based on their rough logo- and font sketches. This was quite a challenge, because the font should work equally well for the logo, as for setting texts online and in print. On the Insignety website, our CFF Insignety is used for headlines. In print the font is, among other things, applied in fair design, packaging, advertising and promotional items.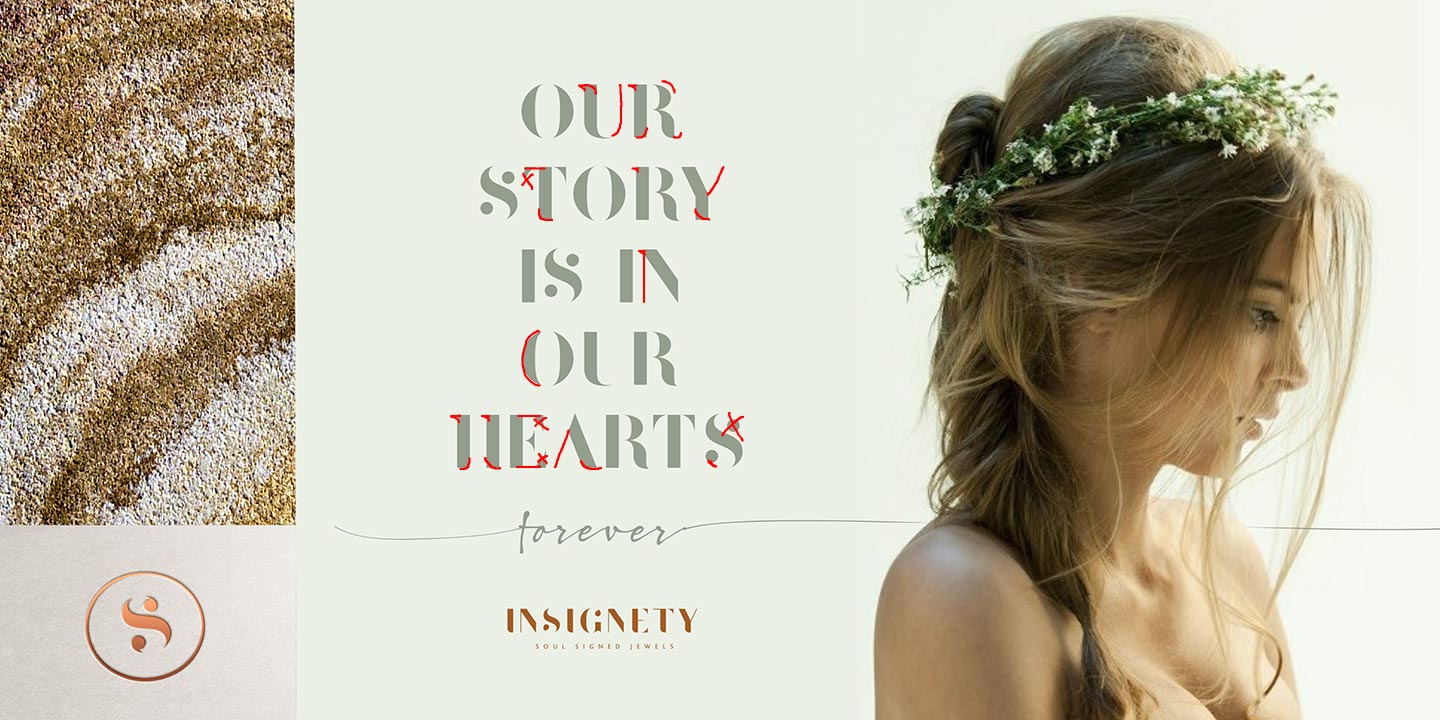 Designing CFF Insignety
We had a click with the client right from the beginning. Insignety is very open-minded and creative. A great client to collaborate with. We set our goals on creating the ultimate brand font that fit their business unique selling point; custom jewelry with soul.
We created a first draft that Insignety could test in their brand identity collateral. We experimented with different serifs, spurs, curves and proportions, until we found the right balance of personality and legibility.
The font consists of separate elements. The left and right sides of the letters are disconnected, as in a stencil font. This allows your mind to wander, play around and imagine what lies in between. White space is important in any good design.
The high contrast is Bodoni-inspired. It gives the font that crisp appearance, resembling the quality of craftsmanship that Insignety offers with their jewelry; Refined, precise and top-quality.
In the search for a unique and characteristic brand font, I came into contact with René Verkaart. The communication went smoothly and all input was converted very quickly to a beautiful font. A font with class, sophisticated and a little bit mysterious. I therefore warmly recommend René!

Ramona Edeling – Marketing Communication Coordinator (Source: Linkedin)
A personal note
CFF Insignety is personally one of you favorite custom fonts, because it's exploding with character and lots of lovely details. It's a brand font by heart, that works equally well in the logo as in bold headline texts.
Characters Font Foundry stands for typefaces that are high quality, powerful and full of personality. CFF Insignety combines all of this in one hell of a sexy font.
Your own custom typeface
In a world that is exploding with brands and loud advertising noises, companies make every effort to stand out and be unique. A custom typeface is a very powerful visual tool to effectively position a brand. They are tailored to a companies needs, and can even save money long-term. It's no longer exclusively available to large companies, but can be done at a smaller scale for medium sized companies as well.
Characters Font Foundry offers creative and highly distinguishable custom typefaces that gives your brand a competitive edge.
Contact us for more information about the Custom Type Services and prices.
Tweet with us